30 October 2017
Zwim Goggles Bring HUD Tech to the Pool
Zwim lets you check real-time activity data via an integrated heads-up display in the middle of swimming.
It detects and calculates time, heart-rate, laps, etc., displaying them in front of your eye in no time. Whether you are a professional swimmer or a weekend-warrior, Zwim will help you achieve your goal of every training.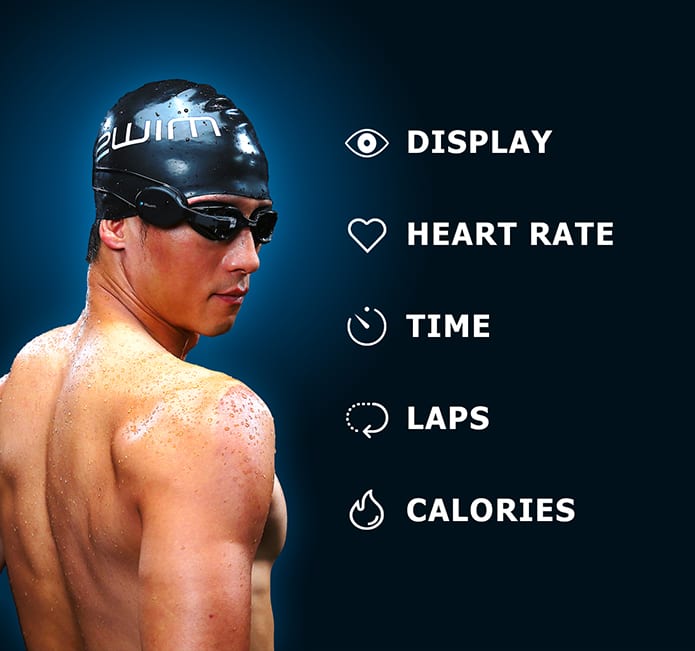 Zwim integrates with world's smallest and most advanced near-eye display.

We've been partnering with world's leading optics company that has the proven technology of wearable display. The display module in Zwim provides high-resolution and full-color visual output with high clarity even in a bright environment.
Watch the raw demo of the display running on Zwim. This video is captured by an ordinary camera with no visual effects nor graphical processing applied. It also demonstrates switching screens by pushing a button.
You may always want to keep track of time in a swimming session. You may also want to check your pace while swimming. A big old clock on the side of the pool might have been helping, but in a very limited way.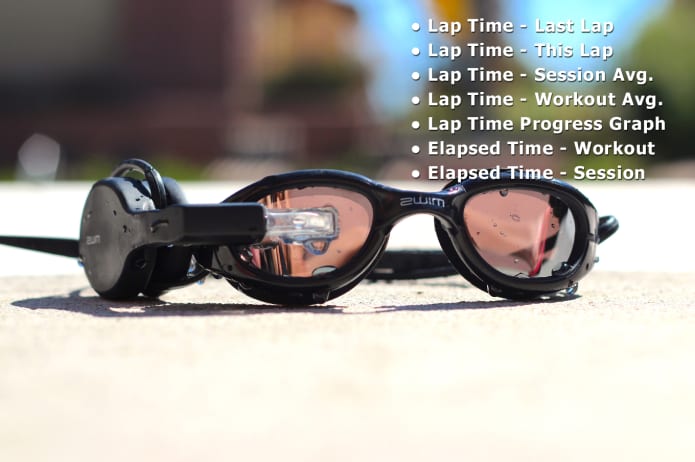 Zwim displays time by a fraction of a second. You may initiate a beginning of a session by pressing the start button on the device. Then you will be able to check elapsed time as you continue to swim. Combined with turn-detection of the motion sensor, Zwim will track lap times and make them available for you at any time.
When you do an interval training, you will push yourself hard in the anaerobic state. When you do a long-distance training, you will try to stay in the aerobic zone for most of the time. Or, when you swim for fat-burn, you will want to know how much calories are consumed. Across all of these cases, monitoring heart-rate will play an important role for effective training.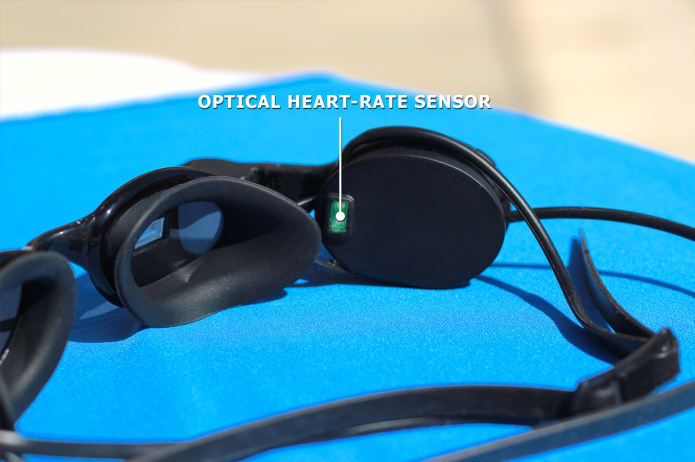 Zwim integrates with a high-accuracy optical heart-rate sensor that will be placed on the temple. The design of Zwim is optimized to achieve accurate detection of heart-rate by keeping the sensor fastened on the temple.
Human's short-term memory is weak. You may feel it becomes worse when you are counting laps on your own as you swim. An abacus, a flapping lap counter, a chunky gadget on your finger, or your coach's yelling might have been helping, but, again, in an insufficient way. A swimming watch still won't be an ultimate solution, since you are not able to read it with your arm stroking.
Zwim will be the replacement of these unwieldy methods. It automatically detects your action when you make a turn and shows you the count of laps, lap time, and other lap-related data, thanks to an embedded motion sensor and sophisticated software algorithm on top of it.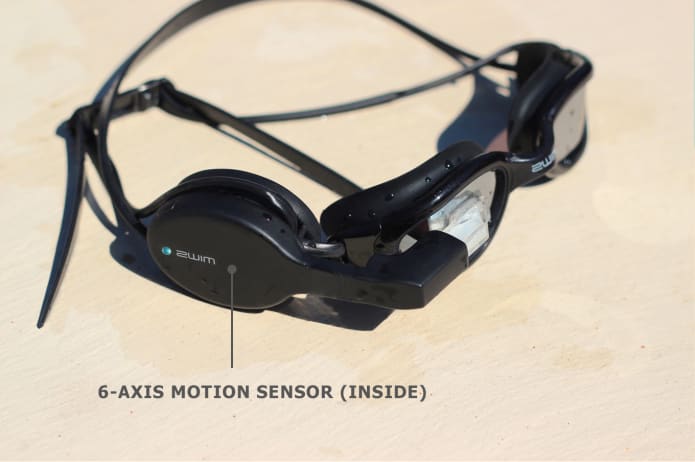 Compared to smart watches for swimming that detect laps based on the random motion of a wrist, Zwim runs an algorithm performed by tracking direction of the movement of your head and body which is a more substantial source for lap detection algorithm. Zwim eventually is capable of accomplishing higher accuracy in detecting laps than swimming watches.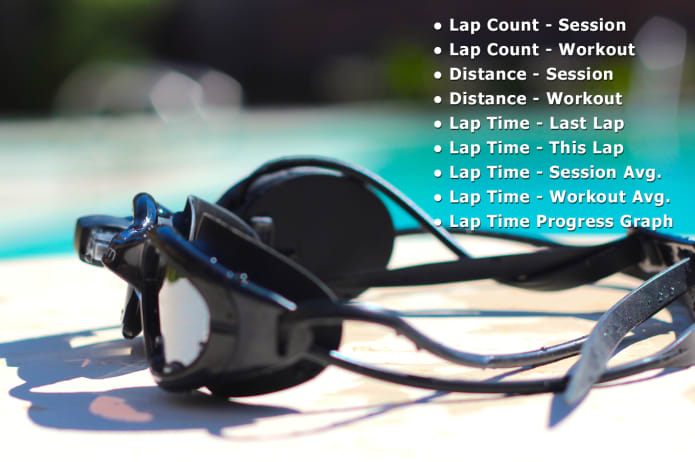 The amount of calorie consumed during a workout is calculated more accurately when alteration of physical intensity over the workout period is applied to the formula. This physical intensity is derived from the heart-rate data. Zwim calculates accurate calories you have burned during a workout based on the collected heart-rate output.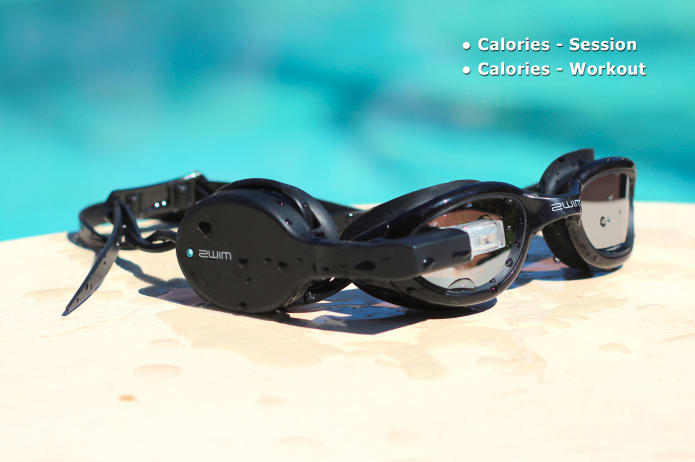 Via settings, you may configure the number of sections per screen between 1 to 4, and you are allowed to choose a data type for each section. Besides, you may set up multiple screens with different configurations on your own so that you can switch between screens with a single press of a button in workout time.
Following is the full list of available data.
Lap Time - Last Lap
Lap Time - This Lap
Lap Time - Session Avg.
Lap Time - Workout Avg.
Lap Time Progress Graph
Elapsed Time - Workout
Elapsed Time - Session
Heart Rate - Current BPM
Heart Rate - Session Avg.
Heart Rate - This Lap Avg.
Heart Rate - Last Lap Avg.
Heart Rate Progress Graph
Heart Rate Zone - Current
Heart Rate Zone - This Lap Avg.
Heart Rate Zone - Session Avg.
Calories - Session
Calories - Workout
Lap Count - Session
Lap Count - Workout
Distance - Session
Distance - Workout
Time of Day
After a workout, you may connect Zwim with your computer and sync your to popular platforms, such as Garmin Connect, Strava, and MyFitnessPal.

When the goggle-part wears out over time or is damaged by accident, you don't have to buy the whole new product. You may separate the goggles from the main device part by hands and replace them with a new pair.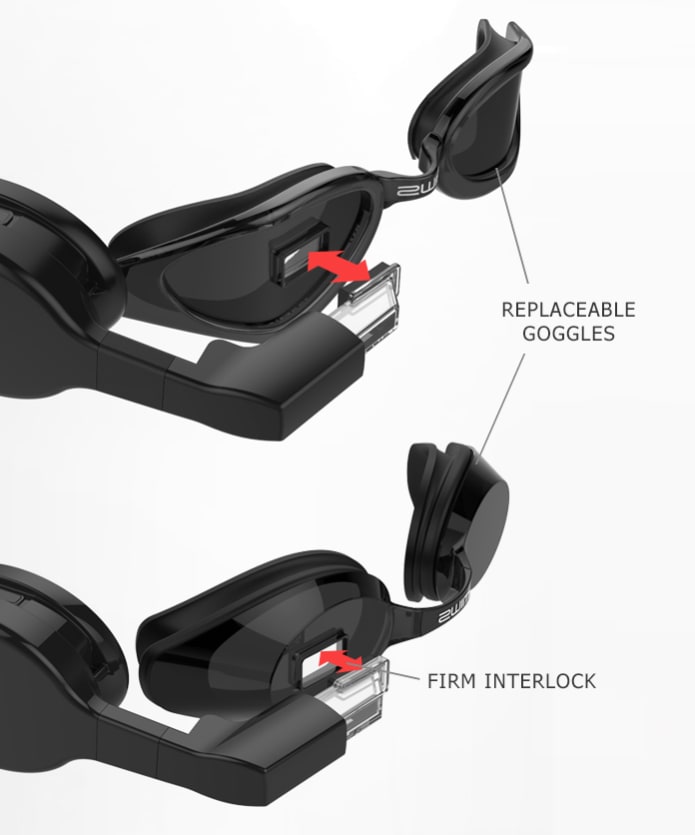 An additional pair of goggles will be sold separately at $15 or above.
Goggles will come in a various types.
Goggles with prescription lenses will be available in different diopter levels.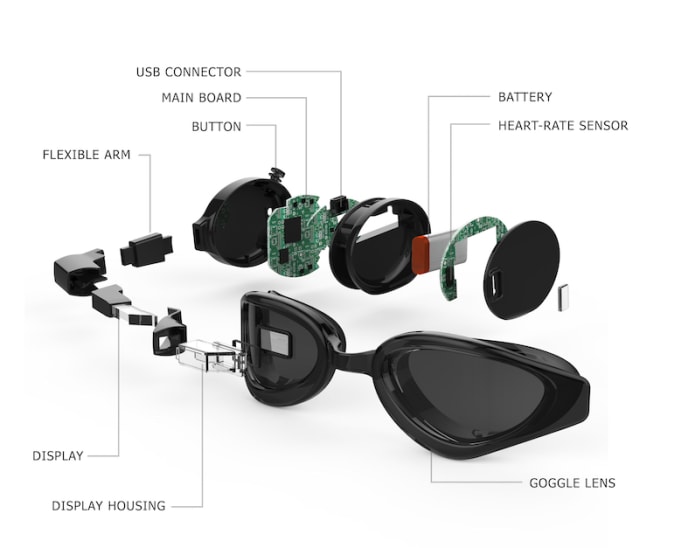 Ref: www.indiegogo.com